The Queen is under medical supervision at Balmoral after doctors became concerned for her health, Buckingham Palace has said.
Prince Charles and his wife, Camilla, have been seen boarding a helicopter at Dumfries House in Scotland travelling to to be with Her Majesty, who "remains comfortable", Buckingham Palace said.
An RAF aircraft carrying Prince William, Prince Andrew, Prince Edward and the Countess of Wessex left RAF Northolt in west London at 2.39pm and arrived at Aberdeen airport at 3.50pm, ahead of their arrival at Balmoral.
The Duke and Duchess of Sussex are travelling separately but have been co-ordinating with other Royal family members' plans, it is understood. Princess Anne is already with Her Majesty at her Scottish Highlands residence.
Buckingham Palace said in a statement: "Following further evaluation this morning, the Queen's doctors are concerned for Her Majesty's health and have recommended she remain under medical supervision.
"The Queen remains comfortable and at Balmoral."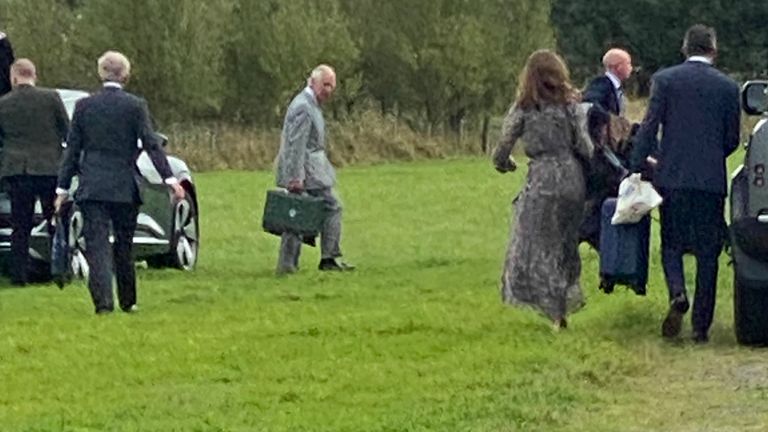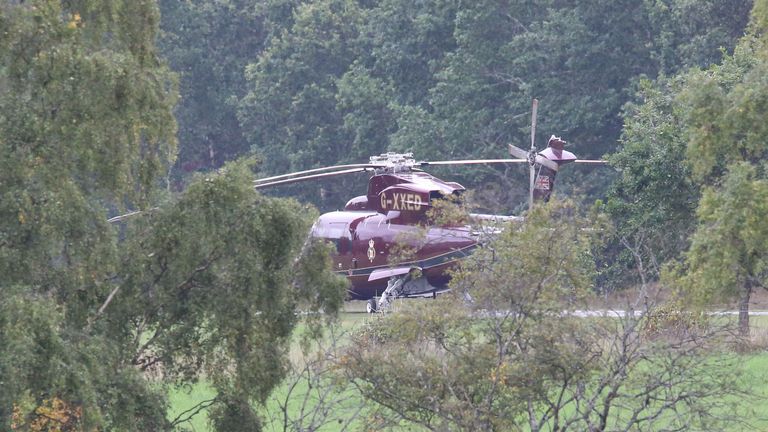 Prince Charles and Prince William cleared their diaries before dashing to Balmoral.
The Duchess of Cambridge has remained in Windsor as Prince George, Princess Charlotte and Prince Louis start their first full day at their new school.
Her Majesty postponed her Privy Council meeting on Wednesday night after being advised by doctors to rest.
Senior royals have been seen getting off their RAF flight in Aberdeen as they travel to Balmoral to be with the Queen following health concerns.

On Tuesday, the Queen, 96, met outgoing PM Boris Johnson before appointing the new prime minister, Liz Truss, at Balmoral for the first time in her 70-year reign, in a break from tradition.
The Royal Family are said to be very keen there is no further speculation amid suggestions the Queen had suffered a fall, which are believed to be incorrect, said Sky News' royal correspondent, Rhiannon Mills.
Mills said: "Of course, there undoubtedly is going to be concern about the Queen.
"It was only last night at six o'clock that we were informed by Buckingham Palace that the Queen had to pull out of conducting a Privy Council meeting which had been pencilled in yesterday evening.
"Last night, they said that after a full day on Tuesday, Her Majesty had accepted the doctor's advice to rest, which had meant the Privy Council meeting that she was due to be conducting, albeit remotely from Balmoral, wasn't able to go ahead."
The Queen had been due to hold the Privy Council meeting of senior government advisers virtually on Wednesday evening but it was decided it would be rearranged.
Ms Truss said the whole country would be "deeply concerned" by the news, adding her thoughts were with the monarch and her family.
The PM currently has no plans to travel to Scotland today or tomorrow, Downing Street said.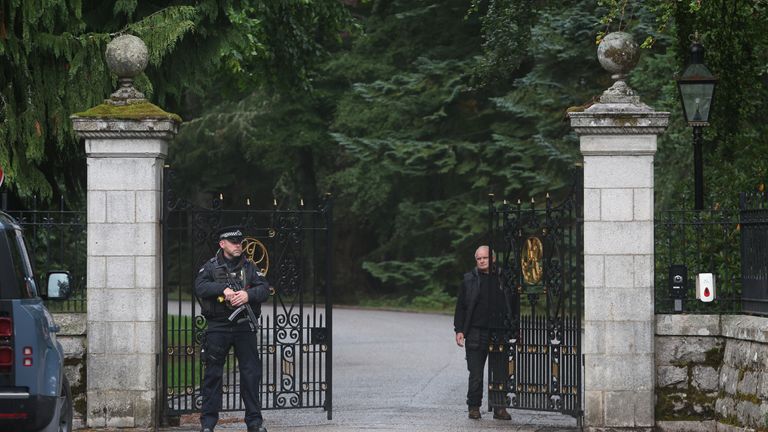 Commons debate interrupted for update on Queen's health
Speaker Sir Lindsay Hoyle interrupted a debate on energy bills in the House of Commons to update MPs about the Queen's health.
He cut short SNP Westminster leader Ian Blackford's speech to say: "I know I speak on behalf of the entire House when I say that we send our best wishes to Her Majesty the Queen and that she and the royal family are in our thoughts and prayers at this moment."
Other key figures including the Archbishop of Canterbury, former prime ministers Sir Tony Blair and David Cameron, and Canadian premier Justin Trudeau expressed their concerns for the Queen.
Sir Keir Starmer, Sir Ed Davey, Nicola Sturgeon and Mark Drakeford also sent their best wishes.
The royal family website appeared to crash after the news of the Queen's health concern emerged.
An error message appeared on screen reading: "Gateway time-out".
A sigh reading "no guard changing ceremony today" was placed outside Buckingham Palace on Thursday morning but was later removed by officials.
Episodic mobility issues
The Queen has faced ongoing "episodic mobility problems" since last autumn and has been relying on a walking stick.
Her Majesty used a walking stick for the first time at a major engagement during a service at Westminster Abbey last October.
She missed the State Opening of Parliament for the first time in 59 years in May – with Charles reading her speech instead.
The monarch was also forced to miss some celebrations for her Platinum Jubilee in June, including a thanksgiving service at St Paul's Cathedral after experiencing discomfort one day earlier.
Her role was formally re-written by Buckingham Palace to scale back her "official duties" in July, for the first time in more than a decade.
She arrived at Balmoral for her traditional summer break on 21 July.
A week later, Charles attended the Commonwealth Games opening ceremony on her behalf, reading a message from the Queen.
Last Saturday, 3 September, Buckingham Palace announced the Queen would not attend the annual Highland Games Braemar Gathering in Scotland.
Queen's health in recent years
Her Majesty went to hospital for a knee operation in 2003, which saw her using a stick in public for around two weeks afterwards.
She had another hospital stay in 2013 after suffering a nasty bout of gastroenteritis.
Five years later in 2018 she had successful surgery to treat cataracts in one of her eyes.
In 2016, she used a lift, rather than the 26-step royal staircase at the Sovereign's Entrance, to enter parliament for the state opening.
On 12 October 2021, at the age of 95, she was pictured using a walking stick at Westminster Abbey – the first time she appeared to need one for mobility issues.
She was given doctors' orders to rest that month and cancelled a run of engagements as a result.
On 20 October, she spent a night at the private King Edward VII Hospital in central London – her first overnight hospital stay in eight years.
A Buckingham Palace spokesman said she was admitted for "preliminary investigations" – but returned to Windsor Castle a day later and "remained in good spirits".
The following month, she was unable to attend the Cenotaph on Remembrance Sunday after spraining her back.
After she remarked to a member of the public that she "couldn't move", Buckingham Palace declined to comment but it was understood she had been feeling slightly stiff – rather than being injured or unwell.
On 21 February this year, it was reported the Queen had tested positive for coronavirus.
Buckingham Palace said she suffered "mild cold-like symptoms" but recovered as she had then received three vaccine doses.
In May, the Queen's "episodic mobility problems" meant she had to miss the state opening of parliament for the first time in 59 years.
She was also absent from much of her Platinum Jubilee celebrations.
This week, for the first time during her reign, she had to appoint the UK's new prime minister at Balmoral – not Buckingham Palace.
She had been there for her summer break and was advised not to travel, receiving Liz Truss in Scotland instead.