Parents of babies and toddlers say mounting costs and cuts to local services are preventing them from giving their children the best start in life, a survey has revealed.
Children's charity UNICEF UK has warned that expensive childcare, fewer support services and the cost of housing are contributing to parents worrying about their children's development.
Of 2,661 parents with children aged four and under surveyed, 70% said it is getting harder to be a parent in Britain.
The current cost of living is impacting 83% of those surveyed.
Jess MacIntyre is a self-employed mother of a two-year-old, living in London.
She says navigating motherhood during the pandemic was difficult but was grateful for her support system, namely her husband, mother-in-law and her mum.
"There wasn't really a textbook on how to navigate it. We did the best we could, found it a lot more challenging than we expected.
"I think the access to GPs, any sort of medical care, alongside the cost of childcare and also trying to navigate going back to work especially as I was self-employed was very challenging."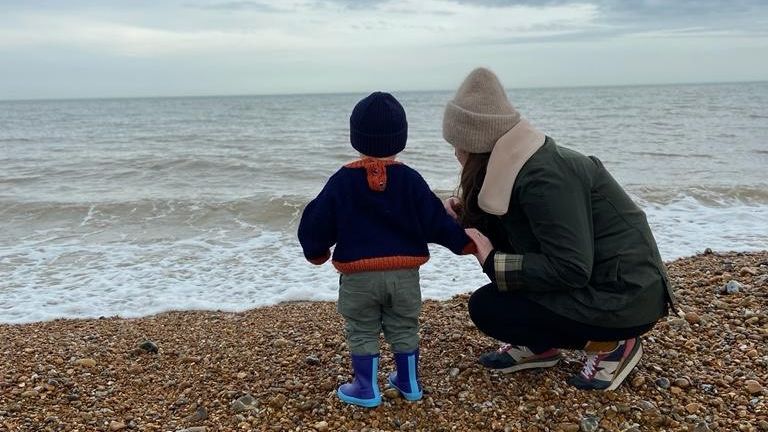 While difficult, she also found the process rewarding.
But she now worries about preparing for her son's future years with mounting costs everywhere she looks.
"I am worried about my child's future. In terms of the childcare services, just from day one getting them into a nursery is difficult and expensive.
"Then the mortgage costs are just so huge, we're currently on an 8% mortgage while we transition, we're in the process of buying a house and just we've had to cut back on everything."
UNICEF UK, which commissioned the survey carried out by YouGov, is calling on the government to further support children under five and their families and improve early childhood services across the country.
Economist: 'Growth is absent'

Read more:
More children to arrive at school with 'dirty uniforms and unclean hair' this term
Number of Britons worried about the cost of housing hits record levels
Local support services lacking
Claire O'Meara, advocacy director of UNICEF UK, says parents' budgets are being stretched across the board, but for families that have no choice but to rely on local support services, they are finding there are fewer of them.
"All parents need support in this period of their lives. But then when you're talking about parents who are really struggling, these support services become a lifeline," she told Sky News.
"And it can't be acceptable, that those services aren't in place for when they need them. Because it's such a short period of time that children are that age. We've got to be there in that moment."
ONS: One in 20 adults out of food

Ms O'Meara explains that the early stages of a child's development are crucial to their future prospects so need to be invested in.
"This is such an important part of a child's life, in those first few years, we're seeing this explosion of brain development, you're developing physically, you're developing socially and emotionally," she said.
"So it's just like things like how well you're able to make friends, build relationships, your ability to learn when you get into school, even how much income you might earn as an adult. The foundations are all of those things are happening right at the start of a child's life."
Click to subscribe to the Sky News Daily wherever you get your podcasts
'Single biggest investment in childcare'
A government spokesperson told Sky News: "We appreciate the pressures that families have faced in recent years from the cost of living and inflation.
"This government is determined to help parents, rolling out the single biggest investment in childcare in England ever, expanding 30 free hours of childcare for working parents which will save eligible working parents up to an average of £6,500 per year.
"To further support parents, we are bearing down on inflation and providing record financial support worth an average £3,300 per household.
"We also are expanding and transforming mental health services as part of the NHS Long Term Plan and our Online Safety Bill will make the UK the safest place in the world to be a child online."