Gwyneth Paltrow's accuser "deteriorated abruptly" after the US actress allegedly crashed into the back of him on the ski slopes, a court has been told.
Terry Sanderson, 76, showed "all the typical hallmarks" of someone who had suffered a brain injury after the 2016 collision, according to radiologist Wendell Gibby, who carried out tests on him.
Mr Sanderson, a retired optometrist, is suing the Hollywood actress over claims she seriously injured him while they were skiing at Deer Valley Resort in Utah.
Paltrow, 50, was "out of control" and showed "reckless" and "dangerous" behaviour as she hit him directly in the back which left him with brain damage and other serious injuries, the court has been told.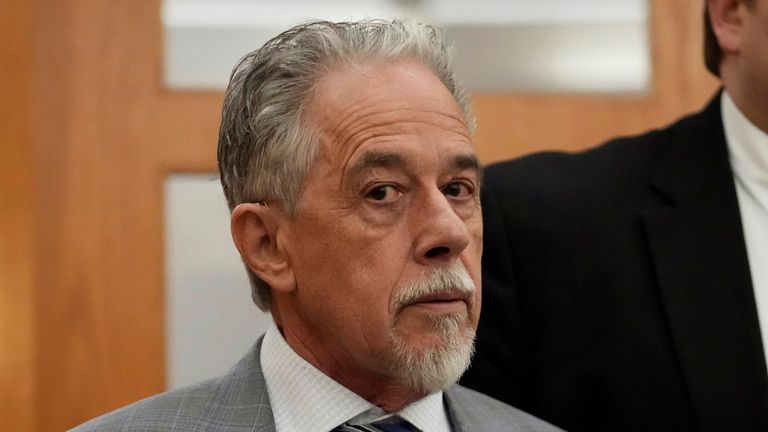 She allegedly "bolted" from the scene without saying a word and he is suing her for $300,000 (£245,000).
But Paltrow, who is also a lifestyle influencer, rejects the claims, with her lawyer calling Mr Sanderson's version of events "utter BS".
Her legal team has told jurors in the Utah town of Park City that Mr Sanderson was the one who crashed into her – a collision in which she sustained what they called a "full body blow".
Watch live: Gwyneth Paltrow in court over ski crash lawsuit
https://news.sky.com/story/watch-gwyneth-paltrow-in-court-over-ski-crash-lawsuit-12839643
Mr Gibby told jurors: "Terry had been a very high-functioning, high-energy person. Every day he was doing lots of things.
"But after his accident he deteriorated abruptly and many of the activities he used to do he stopped doing like dancing, for the most part, his skiing activities.
"His personal interactions with his children and grandchildren suffered and he had trouble multi-tasking… He would go to Home Depot and forget why he was there. Those are all typical hallmarks of someone who has had a traumatic brain injury."
Craig Ramon was the first witness to give evidence.

Read more: 'Paltrow never said a word after hitting fellow skier and bolting'
Mr Gibby added: "In Terry's case… he was a well-respected guy, but I think he lost some of that connectedness. [He had] difficulty in maintaining friendships and the relationships that he had.
"I think that the ability to function at a high level was lost for Terry… many of the things that gave him pleasure in life seem to have been abruptly diminished by this injury."
Read more from Sky News:
Rishi Sunak releases tax return details after bowing to pressure
Prince William makes surprise visit near Ukraine border
Mr Gibby also told the court "the collision involved Terry at some point striking a hard enough object to break his ribs and create a brain injury".
He added: "Terry's concussion was caused by striking the ground and hitting his head."