Four suspected pipe bombs have been found in a cemetery in Northern Ireland, police have said.
Officers sealed off the City Cemetery in Creggan, Londonderry, on Tuesday following the discovery of a suspicious device.
It comes just hours ahead of President Joe Biden's visit to Belfast.
Assistant Chief Constable Bobby Singleton said the discovery of the devices was a "sinister and worrying" development.
"The actions of those responsible are reprehensible and show a complete disregard and utter contempt for the community," he said.
Read: Joe Biden visit – latest: US president sets off for Northern Ireland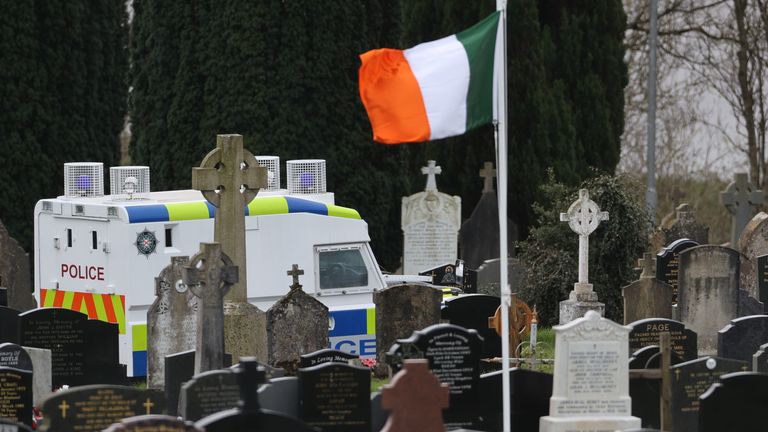 "These suspected pipe bombs were left in a cemetery a place where people lay loved ones to rest and visit to pay their respects. That is absolutely shameful."
ACC Singleton said the devices were made safe and taken away for further forensic examination. He said counter-terrorism officers would now lead an investigation.
It comes after police condemned a petrol bomb attack on officers in Derry during an Easter Monday parade as "senseless and reckless".
Read more:
Why the Good Friday Agreement remains a transformative moment in history
Tony Blair calls for 'leadership' as he reflects on Good Friday Agreement
The incendiary devices were thrown at an armoured police Land Rover in Creggan while officers attended what they described as an "unnotified" march by dissident republicans.
The vehicle, which was being used in the monitoring of the parade at the time of the attack, was withdrawn from the scene and no one was reported injured.
The incident happened on Easter Monday, which this year coincided with the 25th anniversary of the signing of the Good Friday Agreement – a peace deal that largely ended three decades of sectarian bloodshed in Northern Ireland.
Police vehicle attacked in Northern Ireland

It is also the day dissident republicans traditionally mark the anniversary of the Easter Rising rebellion against British rule in 1916.
One speaker at the parade, which culminated with speeches at the republican plot at the City Cemetery, described the event as "respectful and dignified, paying homage to the revolutionary heroes of 1916 and all the republican dead".
However, Derry City and Strabane Area Commander, Chief Superintendent Nigel Goddard said in a statement: "This is not what we have witnessed today (Monday)."
"What we saw develop this afternoon in Creggan was incredibly disheartening."
PSNI said all of the suspected pipe bombs were located in the same area where clothes worn by participants in Monday's Easter parade were removed under the cover of umbrellas and burnt.
"The operation in the cemetery is now complete and police officers have left the scene," a PSNI spokesperson said.