A Russian "spy" ship stopped at sites around wind farms off the Scottish coast in order to gather intelligence, an investigation has claimed.
The Admiral Vladimirsky was part of an operation to map undersea infrastructure in the North Sea, according to a joint report by broadcasters in Denmark, Sweden, Norway and Finland.
It is officially classified as an ocean research vessel, but the investigation alleges it is part of a fleet examining key energy sites for potential sabotage.
Danish broadcaster DR released video of an encounter at sea between their team and the Russian ship, which was filmed off the Danish coast in November.
It shows a man with an assault rifle and wearing a balaclava and military gear appearing on the deck of the Admiral Vladimirsky.
The ship is thought to have entered the Moray Firth on 10 November last year.
Niels Fastrup, from Danish broadcaster DR, told STV about the investigation, saying: "It seems to have been loitering for a few days in the Moray Firth area.
"According to the source we've been talking to, and we gave them a look into our data, what they believe is, it is investigating some of the offshore wind farms in Scottish waters.
"The next time it stopped was at the Seagreen wind farm outside of Aberdeen.
"According to our experts and intelligence sources we've been talking to, the purpose of that stop was also to investigate the Seagreen wind farm in order to look for possible vulnerabilities to exploit in the event of an escalation in the current conflict situation between Russia and the Western world."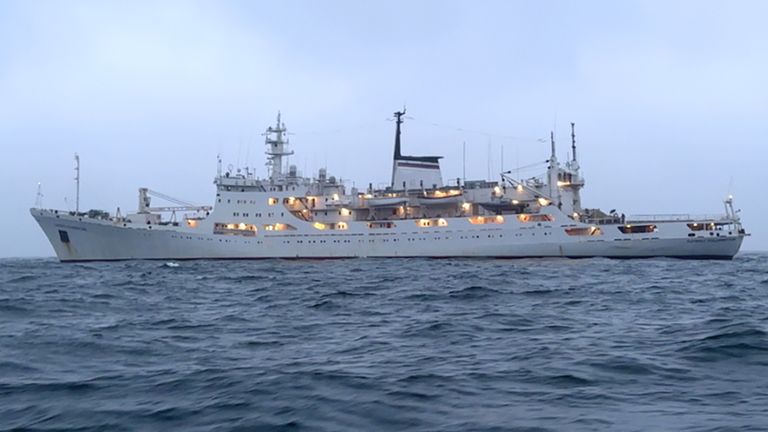 North Sea infrastructure concerns
There have been increased concerns about the safety of North Sea infrastructure amid ongoing tensions with Russia, particularly in the wake of an attack on the Nord Stream pipeline.
Defence Secretary Ben Wallace discussed the importance of protecting undersea internet cables when European defence ministers met for a Joint Expeditionary Force summit in Edinburgh last year.
Norway's oil and gas infrastructure was "particularly vulnerable" because it had become Europe's main supplier, he said.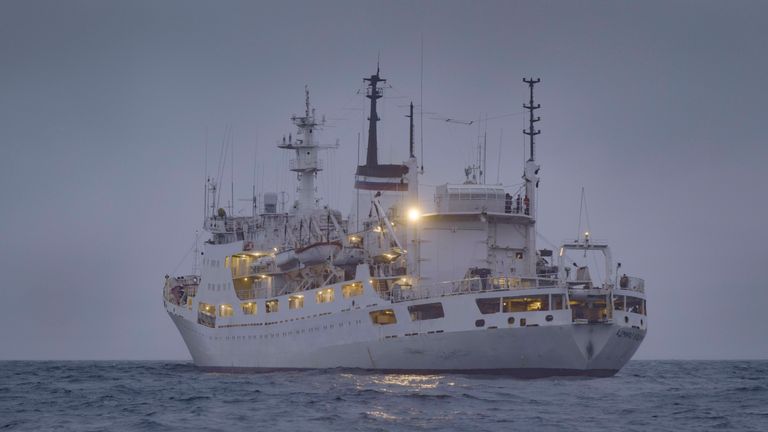 Royal Navy purchasing dedicated subsea surveillance ships
The Royal Navy is buying two dedicated subsea surveillance ships, which are due to be operational this year.
An MoD spokesperson said: "Our priority will always be maintaining our national security.
"That is why we increased Royal Navy presence patrols after the Nord Stream incident and have invested £65m in the first of our two Multi-Role Ocean Surveillance ships.
"We continue to review all our investments and activities against the full range of threats and risks."
Asked to comment on the allegations that Russia was preparing to sabotage energy infrastructure, Kremlin spokesman Dmitry Peskov said European countries "again prefer to baselessly blame Russia for everything".